I know I took quite a bit of a hiatus but I'm back! I've got several new things to share with you. Today I'd like to share some fun new background sites for you to check out.
The first is My Style backgrounds. They have awesome backgrounds for you whether you've got a 2 column or a 3column. She also shares fun matching headers for each background.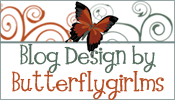 The next is Butterfylgirlms Blog Design. She has tons of free backgrounds, headers, and templates to choose from.
Also don't forget about kevin and amanda. She has some blog backgrounds, and is always updating her fun fonts to choose from! Enjoy!